Guest post by Sung-pil Hwang
South Korea patent and trademark attorney at E.M.Hwang & Partners
How many IP applications are filed in South Korea?
South Korea is one of the IP5 countries. In S. Korea, patent law plays an important role in protecting the rights of many companies and individuals. According to the World Intellectual Property Indicator (2018) published by the World Intellectual Property Organization (WIPO) in 2017, the number of patent applications filed in S. Korea in 2017 was reported to be the top in the world. For reference, the survey is the result of the percentage of the population per GDP.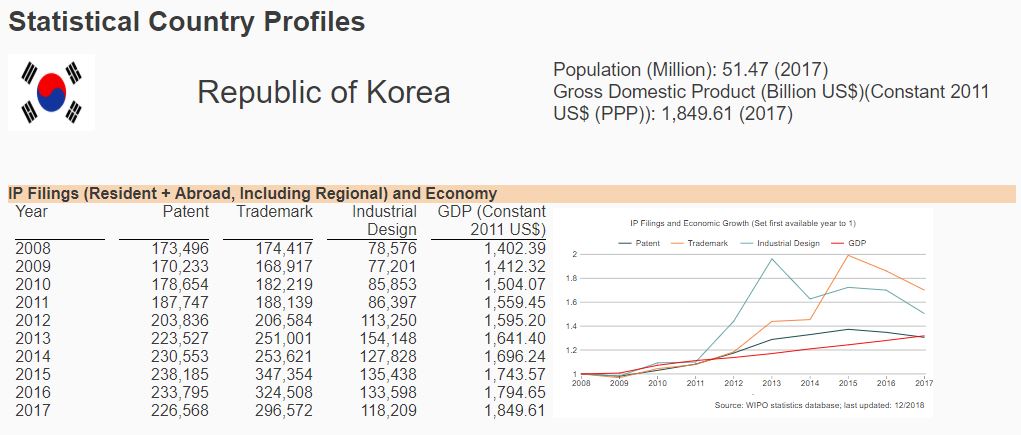 Why are so many patent and trademark applications filed in S. Korea?
South Korea is a small country. But it is a country where various technologies and projects are tried. Therefore, it is a country that must be considered in order to enter into business in Asia. The number of patent applications from the US to Korea is also significant. In 2016, there were approximately 13,000 patent applications filed by US applicants in the Republic of Korea.
How to enter Korean national phase
For a PCT international application to enter the Korean national phase, the application should be filed within 31 months of the priority date. In general, the Korean translation of the PCT application must be submitted with the application, but Article 201 (1) of the Amendments extends the translation submission deadline by allowing the applicant to request a one-month extension of time for submitting the Korean translation. In other words, the application must be completed within 31 months, but there is a one-month grace period for submitting the translation to foreigners. It is a system that helps foreigners who want to obtain patents in Korea.
Thank you for rating my post!
We want to do better.
Could you tell us what was missing in our post?