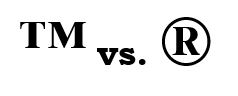 What does the TM symbol mean?
The TM symbol placed next to a mark is meant to put the public on notice that the owner considers that particular mark to be proprietary. In other words, the owner is claiming rights to that mark even if a trademark application has not been filed. As discussed further below, a circle R symbol may be used only when a trademark is registered.
Need to register a trademark to enroll in Amazon Brand Registry? Email Vic at vlin@icaplaw.com or call (949) 223-9623 to explore working with us. We know what it takes to get trademarks registered and patents granted. For flat fee trademark filings from start to finish, see our fixed fee patent and trademark cost estimates.
Does the TM symbol mean that a trademark application has been filed?
No, the TM symbol does not signify that a trademark application is pending. In fact, it is entirely lawful to use the TM symbol to signify unregistered common law rights to a mark for which federal registration has not been applied.
Not all marks are protectable, and the fact that a company placed a TM symbol next to a term or slogan does not necessarily mean that they have the right to stop others from using the term. Nonetheless, it is useful to know where a competitor is coming from if you see the TM symbol next to an unregistered mark. If you're thinking of using or applying for a similar mark, you may want to reconsider unless you have strong arguments for making fair use of the term.
What is the difference between TM and SM symbols?
Both TM and SM symbols serve the same purpose: providing notice that an owner considers a particular mark to be proprietary. When a mark is used in connection with services, the mark is technically called a service mark. So the SM symbol can be applied to marks for services while the TM symbol can be applied to marks for goods.
What does the circle R symbol (®) mean?
The circle R symbol (®) means that a mark is federally registered with the US Patent and Trademark Office, either on the Principal Register or Supplemental Register.
When is it OK to use the circle R symbol?
Do not use the ® symbol if you have not yet secured a federal registration of your mark. Filing a trademark application alone does not entitle you to use the circle R symbol.
If you are launching new products under a new mark and need to file a Statement of Use for an Intent-To-Use application, make sure the mark shown on the product or packaging omits the circle R symbol. In filing a Statement of Use, it would be acceptable to submit specimens showing the TM or SM symbol.
How to use the ® symbol
The ® symbol is typically placed in the upper right hand corner or lower right hand corner of a mark that is registered with the USPTO.
Can you submit specimens with the circle R symbol?
If a foreign applicant is using the circle R symbol on specimens due to a foreign registration, then such use may be proper. Such use, however, may invite an Office Action if the Examining Attorney cannot determine whether the mark is registered in a foreign country.
Countries that use the circle R symbol include:
Belgium
China
Costa Rica
Denmark
Ecuador
Germany
Hungary
Luxembourg
Netherlands
Nicaragua
Poland
Sweden
Ready to protect your trademark?
Contact US patent and trademark attorney Vic Lin by email or call (949) 223-9623. We can help you determine the right type of trademark application to file and search for similar trademarks before filing. Save time and money by avoiding common mistakes made by do-it-yourself trademark filers.
If you found this TM symbol article helpful
Feel free to check out my best IP resources here.
Thank you for rating my post!
We want to do better.
Could you tell us what was missing in our post?